fork-tailed sunbird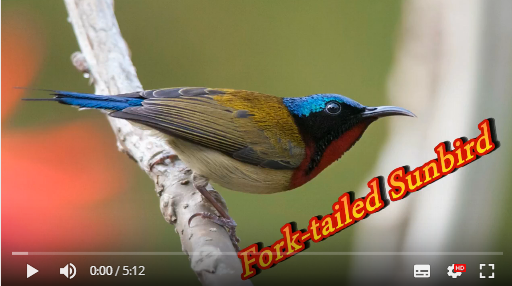 The fork-tailed sunbird (Aethopyga christinae) is a species of bird in the Nectariniidae family. It is found in China, Hong Kong, Laos, and Vietnam. Its natural habitat is subtropical or tropical moist lowland forests. These small birds, with decurved bill, call a soft and frequent "zwink-zwink" and a metallic trill. The bird appears in the most commonly used postal stamp of Hong Kong.
  It is 10 cm long
The males of the species are identified by their combination of small size, dark olive-coloured mantle, yellow rump and crimson throat and breast. Females are much more difficult to identify and can be mistaken for female green-tailed sunbirds,
Feed on nectar and insects
Often reproduce seasonally, in the rainy season.
Nails in the shape of the bag are the drooping cabbage of the fine branches with heavy use of the spider webs.
The female fertilizes the nest only and females lay four eggs. The females adopt the nest and incubate the eggs alone, but the males help them feed the young
Catalan: suimanga cuaforcat
Czech: Strdimil vidloocasý
Danish: Gaffelhalet Solfugl
German: Hainan Necktarvogel, Hainannektarvogel, Javanektarvogel
English: Fork tailed Sunbird, Fork-tailed Sunbird
Spanish: Nectarina Tijereta, Suimanga de Christina
Spanish (Spain): Suimanga de Christina
Finnish: Haarapyrstömedestäjä
French: Souimanga à queue fourchette, Souimanga à queue pointue, Souimanga de Christina, Souimanga de Christine, Souimanga de Christina
Hungarian: hajnani nektármadár
Italian: Nettarinia codaforcuta
Japanese: embitaiyouchou, en-bi taiyō-chō, enbitaiyouchou
Japanese: エンビタイヨウチョウ
Japanese (Kanji): 燕尾太陽鳥
Latin: Aethopyga christinae, Aethopyga christinae christinae
Lithuanian: Hainaninė smailiauodegė nektarinukė
Dutch: Vorkstaarthoningzuiger, Vorkstaart-honingzuiger
Norwegian: Gaffelsolfugl
Polish: kwiatownik widlosterny, kwiatownik widłosterny
Pinyin: chā-wěi tàiyáng-niǎo, yàn-wěi tàiyáng-niǎo
Russian: Хайнаньская острохвостая нектарница
Slovak: Nektárnička vidlicovochvostá, nektárovka vidlochvostá
Swedish: Gaffelstjärtad solfågel, saxstjärtad solfågel
Vietnamese: Chim Hút mật đuôi chĩa, Chim Hút mật đuôi nhọn, Hút mật đuôi nhọn
Chinese: 叉尾太阳鸟, 叉尾太陽鳥, 燕尾太阳鸟
Chinese (Traditional): 叉尾太陽鳥, 燕尾太陽鳥
Chinese (Taiwan, Traditional): 叉尾太陽鳥
Chinese (Taiwan): 叉尾太阳鸟