blue rumped pitta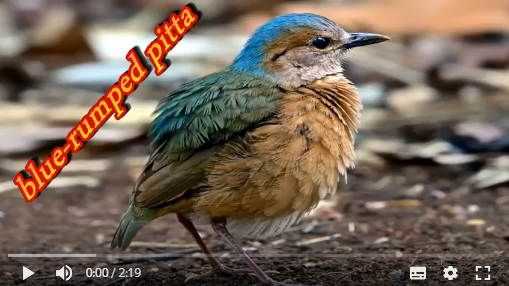 The blue-rumped pitta (Hydrornis soror) is a species of bird in the Pittidae family. It is found in Cambodia, China, Laos, Thailand, and Vietnam. Its natural habitats are subtropical or tropical moist lowland forests and subtropical or tropical moist montane forests.
This species is widely spread in Southeast China, eastern Thailand and south all over Indochina. Tropical rainforest habitats and dense shrubs.
Its length is 22 to 24 cm and weighs 102 to 120 grams
 This bird is plump, with wings and a short tail, and his head from the top is blue and the back and wings are green and have a brown color at the bottom.
The diet of these birds consists mainly of earthworms, snails, insects and other small invertebrates
This bird is earthy and alone spends most of the day moving around bushes and plants in search of food, rarely leaves the earth and remains within a specific territory
Catalan: pita de carpó blau
Czech: pita indočínská, Pita modroocasá
Danish: Blågumpet Pitta
German: Blaubürzelpitta, Blaubürzel-Pitta
English: Blue rumped Pitta, Blue-backed Pitta, Blue-headed Pitta, Blue-rumped Pitta
Spanish: Pita de Lomo Azul, Pita Lomiazul
Spanish (Spain): Pita Lomiazul
Estonian: sinipära-pita
Finnish: Siniviittapitta
French: Brève à dos bleu
Hungarian: kékhátú pitta
Italian: Pitta dorsoblu, Pitta groppazzurra
Japanese: koshi-ao ya-iro-chō, koshiaoyairochou
Japanese: コシアオヤイロチョウ
Japanese (Kanji): 腰青八色鳥
Latin: Hydrornis soror, Pitta (Hydrornis) soror, Pitta soror, Pitta soror soror
Lithuanian: Mėlynsturplė pita
Dutch: Blauwstuitpitta
Norwegian: Blågumppitta
Polish: kurtaczek niebieskorzytny
Pinyin: lán-bèi bā-sè-dōng
Russian: Синепоясничная питта
Slovak: pita bledolíca
Swedish: blågumpad juveltrast, Blågumpad pitta
Thai: นกแต้วแร้วใหญ่หัวสีน้ำเงิน, นกแต้วแล้วใหญ่หัวสีน้ำเงิน
Thai (Transliteration): nók tâeew-láeew yày hŭa sĭi-nám-ŋoen, nók tâeew-ráeew yày hŭa sĭi-nám-ŋoen
Vietnamese: Chim Đuôi cụt đầu xám, Đuôi cụt đầu xám
Chinese: 蓝背八色鸫
Chinese (Traditional): 藍背八色鶇, 藍腰八色鳥