pin-striped tit-babbler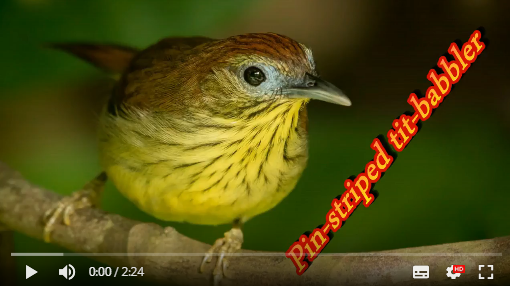 The pin-striped tit-babbler (Macronus gularis), also known as the yellow-breasted babbler, is a species of Old World babbler[1] found in South and Southeast Asia.
Bengali: দাগি তিতছাতারে
Catalan: timalí variable
Czech: timálie žlutobřichá
Danish: Stribet Mejsetimalie
German: Strichelmeisentimalie
English: Pin-striped Tit-babbler, Striated Tit babbler, Striped Tit Babbler, Striped Tit-Babbler, Yellow-breasted Babbler
Spanish: Timalí Goliestriado
Spanish (Spain): Timalí Goliestriado
Finnish: keltatiheikkötimali
French: Timalie à gorge striée
Hungarian: csíkostorkú lombtimália
Indonesian: Burung Ciung-air Coreng, Ciungair Coreng, Ciung-air coreng
Italian: Garrulo cincia striato
Japanese: muna-fu mushi-kui chime-dori, munafumushikuichimedori
Japanese: ムナフムシクイチメドリ
Japanese (Kanji): 胸斑虫喰知目鳥
Latin: Macronous gularis, Macronous gularis gularis, Macronus gularis, Mixornis gularis, Timalia gularis
Lithuanian: Geltonkrūtis zylinis plepys
Malay: Burung Rimba Berjalur
Dutch: Geelborsttimalia
Norwegian: Smalstripemeistimal, Stripemeistimal
Polish: gromadniczek żółtobrzuchy, tymalka żółtobrzucha
Pinyin: wén-xiōng jù-méi, wén-xiōng méi
Russian: Желтогрудая синицевая тимелия, Желтогрудый синицевый бабблер
Slovak: timália žltobruchá
Swedish: finstrimmig mestimalia, Strimmig mestimalia
Thai: นกกินแมลงอกเหลือง
Thai (Transliteration): nók kin-ma-laeeŋ òk-lĕuaŋ
Vietnamese: Chích chạch má vàng, Chim Chích chạch má vàng
Chinese: 纹胸巨鹛, 纹胸鹛
Chinese (Traditional): 紋胸巨鶥, 紋胸雀鶥, 紋胸鶥
Description
The species has a distinctive yellowish supercilium and rufous crown. The throat is yellowish with brown streaks. Call is a loud repeated chonk-chonk-chonk-chonk-chonk somewhat reminiscent of a common tailorbird.
They forage in small flocks and creep and clamber in low vegetation. They breed in the pre-monsoon season from February to July and build a loose ball shaped nest made from grasses and leaves.
It feeds on insects, including small beetles, larvae, ants, locusts, as well as spiders
Distribution
The species is widely distributed and is found in Bangladesh, Bhutan, Brunei, Cambodia, China, India, Indonesia, Laos, Malaysia, Myanmar, Nepal, Philippines, Singapore, Thailand and Vietnam.
In India, there are disjunct populations in southern India. This population was recorded by Salim Ali from Antharasanthe near the Kabini reservoir. There were no records of the species from this area after the initial collection. The southern population was rediscovered from the Masinagudi area in Mudumalai in 2004.
Other populations are found in the northern Eastern Ghats.