common quail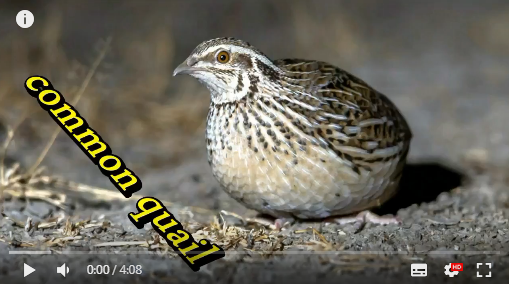 The common quail (Coturnix coturnix) or European quail is a small ground-nesting game bird in the pheasant family Phasianidae. Coturnix is the Latin for this species.
With its characteristic call of "wet my lips", this species of quail is more often heard than seen. It is widespread in Europe and North Africa, and is categorised by the IUCN as "least concern". It should not be confused with the Japanese quail, Coturnix japonica, native to Asia, which, although visually similar, has a very distinct call. Like the Japanese quail, common quails are sometimes kept as poultry.
Diet
The diet includes insects and seeds.
Description
It is a small, round bird, essentially streaked brown with a white eyestripe, and, in the male, a white chin. As befits its migratory nature, it has long wings, unlike the typically short-winged gamebirds. It measures roughly 18.0–21.9 cm and weighs 91–131 g
Habits
This is a terrestrial species, feeding on seeds and insects on the ground. It is notoriously difficult to see, keeping hidden in crops, and reluctant to fly, preferring to creep away instead. Even when flushed, it keeps low and soon drops back into cover. Often the only indication of its presence is the distinctive "wet-my-lips" repetitive song of the male. The call is uttered mostly in the mornings, evenings and sometimes at night. It is a strongly migratory bird, unlike most game birds.
Breeding
Upon attaining an age of 6–8 weeks, this quail breeds on open arable farmland and grassland across most of Europe and Asia, laying 6-12 eggs in a ground nest. The eggs take from 16–18 days to hatch.
Afrikaans: Afrikaanse Kwartel
Arabic: السمان, السمانى, السمانى فري، فريرة, الفرّ, فري
Asturian: Parpayuela
Azerbaijani: Bildirçin
Belarusian: pierapiołka, Перапелка, перапёлка
Bulgarian: p"dp"d"k, Пъдпъдък
Bengali: পাতি বটেরা
Breton: Ar goailh-soul, Goailh, koailh
Catalan: Guàtlera, Guatlla, Guatlla comuna
Catalan (Balears): Guàtlera
Czech: křepelka, Krepelka polní, Křepelka polní
Chuvash: Ахаль путене
Welsh: Rhinc, sofliar
Danish: Vagtel
German: Wachtel, Wachtel-coturnix
Greek: (Κοινό) Ορτύκι, [ortiki], ortiki, Ορτύκι
Greek (Cypriot): Ορτύκι
English: Common quail, Eurasian Common Quail, European Migratory Quail, European Quail, Quail
English (Kenya): Common Quail
Esperanto: koturno
Spanish: codorniz, Codorníz, Codorniz Comun, Codorniz Común, Codorniz europea-coturnix, guatla
Spanish (Spain): Codorniz Común
Estonian: Poldvutt, Põldvutt , vutt
Basque: galeper, Galeperra, Guatlla
Persian: بلدرچین
Finnish: Viiriäinen
Faroese: Lynghani, Pippus, vaktil
French: Caille commune, Caille des blés, Caille d'Europe
Friulian: cuaie
Frisian: kwartel
Irish: gearg, paspallás
Gaelic: Gearradh Gort
Galician: Guatlla, Paspallás, paspallás común
Manx: Eean Feie, quayl
Hebrew: שלו, שליו, שליו נודד
Croatian: Prepelica, Prepelica pućpura
Hungarian: fürj
Armenian: [Lor ], Լոր
Icelandic: Kornhæna
Italian: quaglia, Quaglia comune, Quaglia dx
Japanese: yoaroppauzura, Yooroppa uzura, yōroppa uzura, yo-roppauzura
Japanese: ヨアロッパウズラ, ヨーロッパウズラ
Japanese (Kanji): ヨーロッパ鶉
Georgian: მწყერი
Khakas: Пÿдÿрчÿн
Kazakh: Бєдене
Kazakh (Transliteration): bödene
Korean: 메추라기
Cornish: rynk
Kwangali: Erurumbe
Latin: Coturnix coturnix, Coturnix coturnix africana, Coturnix coturnix coturnix, Tetrao Coturnix
Ladino: caia
Luxembourgish: Wuechtel
Lithuanian: Paprastoji putpelė, Piepala, Putpele, putpelė
Latvian: paipala
Malagasy: Papelika
Macedonian: potpološka, Потолошка, Потополошка–препелица, потполошка, Препелица
Mongolian: Бүднэ, Эгэл бөднө
Mongolian (Bichig): ᠡᠬᠡᠯ ᠪᠦᠳᠣᠨ᠎ᠠ
Mongolian (Buryat): бүдэнэ
Mongolian (Bichig, Inner Mongolia): ᠪᠦᠳᠣᠨ᠎ᠠ
Mongolian (Cyrillic, Inner Mongolia): Бүднээ
Mongolian (Transliteration): büden, büdene, büdnee, egel böden
Maltese: summiena
Dutch: Kwartel
Norwegian: vaktel
Sotho, Northern: Sekhwiri
Occitan: catla
Polish: przepiórka, przepiórka (zwyczajna), przepiórka zwyczajna
Pinyin: ānchun, xī ānchun
Portuguese: Codorniz, Codorniz comum, Codorniz-comum
Portuguese (Portugal): Codorniz
Romansh: quacra, quaiglia
Romanian: dropya, Prepeliță, prepelita, prepeliţă
Russian: obyknovennyj perepel, обыкновенный перепел, Перепел, Перепел обыкновенный
Sardinian: bebberecche, cancarau, Circùiri, cìrcuri, concarada, crànchiu, cricchibě, cricchibì, croccadì, cualla, guàgliulu, guŕgliulu, pappadassa, parparaghe, pasparrau, peberana, pepperastu, perpereche, trepotčs, trepotès, xrěcchibi, xrìcchibi
Scots: gearradh-gort
Sindhi: ثچي ؽٍين
Northern Sami: goaktil
Slovak: prepelica, Prepelica poľná
Slovenian: prepelica
Shona: Huta
Albanian: shkurta, Shkurtë
Serbian: prepelica, препелица
Sotho, Southern: Koekoe
Swedish: Vaktel
Swahili: Tombo, Tomboo, Tomboro, Tomboroko
Tamil: Kaadai
Thai: นกคุ่มญี่ปุ่น
Turkmen: bıldırcın
Tswana: Tshosabannê
Turkish: Bıldırcın, byldyrcyn, Бөдене
Tsonga: Khevezi
Tuvinian: Бөдене, Матпадак, патпадак
Ukrainian: perepel, перепел, Перепілка
Vietnamese: Cay nhật bản
Sorbian, Lower: paśpula
Sorbian, Upper: pocpula
Xhosa: Isagwityi
Chinese: [an-chun], [xi an-chun], 西鹌鹑, 鹌 鹑, 鹌鹑
Chinese (Traditional): 普通鵪鶉, 西鵪鶉, 鵪鶉
Zulu: isiGwaca