common firecrest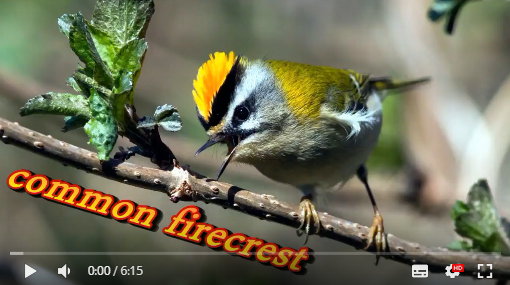 The common firecrest (Regulus ignicapilla) also known as the firecrest, is a very small passerine bird in the kinglet family. It breeds in most of temperate Europe and northwestern Africa, and is partially migratory,
BIOMETRICS :
Length : 9 cm
Weight : 5-7 g
DESCRIPTION :
Common Firecrest is a tiny gem always moving along the small branches and twigs, searching for food while calling softly.
Adult male has olive green upperparts and whitish underparts. It shows yellow-bronze shoulder patch. On the wings, the flight feathers are more or less edged yellow-green. We can see two white wing bars and black patch at secondary's base.
On the underparts, the throat is creamy-white. Belly is pale greyish.
The head shows striking pattern on pale grey plumage. Crown is black with conspicuous orange median stripe, ending in bright yellow on the rear crown. Forehead is yellowish-buff. We can see a broad white supercilium and a finer white crescent below the eye. Lores are black, followed by black eye-line ending on the ear-coverts. We can also see a fine black malar stripe.
The thin pointed bill is black. Eyes are dark brown to black. Legs and feet are brown.
Female is almost similar to male, but she has duller yellowish line on the crown, and she often lacks this pattern.
Juvenile is duller in plumage than adults and lacks the conspicuous head pattern.
Common Firecrest's call is a slow "ze-ze-zeep", or a single "zeep" sometimes repeated.
Song is a repeated crescendo of one note, accelerating towards the end "zi-zi-zi-zizizit".
HABITAT:
Common Firecrest frequents mainly coniferous forests (spruce and fir). It may also be common in mixed woodlands, according to the range. It has a preference for oak trees (Quercus).
This species is usually found in lowlands up to 1000 metres of elevation, but higher in North Africa, up to 1600 metres.
RANGE:
Common Firecrest ranges in Europe, from Western Europe, Balearic Islands and North Africa to Crimea and Western Caucasus.
BEHAVIOUR:
Common Firecrest feeds mainly on insects such as Arthropods, aphids and spiders. The largest preys are beaten against a branch before to be eaten.
It forages mainly on the upper side of leaves and branches, rarely in dense foliage.
Asturian: Reyín
Belarusian: Каралёк чырвонагаловы, Чырвонагаловы каралёк
Bulgarian: Червеноглаво кралче, Червеноглаво кралче (ssp. ignicapilla/balearica)
Breton: An dreolan kabell-flamm
Catalan: Bruel, bruel eurasiàtic, Reietó cellablanc
Catalan (Balears): Reietó cellablanc
Czech: Králícek ohnivý, Králíček ohnivý, králíèek ohnivý
Welsh: Dryw penfflamgoch
Danish: Rødtoppet fuglekonge, Rødtoppet Fuglekonge (Europæisk)
German: Kanarengoldhähnc, Sommergoldhaehnchen, Sommergoldhahnchen, Sommergoldhähnchen, Sommer-Goldhähnchen, Sommergoldhähnchen (ignicapilla/balearica)
Greek: Βασιλίσκος, Πυροβασιλίσκος, Χρυσογιαννούδι
Greek (Cypriot): Χρυσογιαννούδι
English: Common Firecrest, Eurasian Firecrest, Firecrest, Firecrest (European)
Esperanto: fajroverta regolo
Spanish: Reyezuela listado, Reyezuelo Listado, Reyezuelo sencillo, Reyezuleo listado (ignicapilla/balearica)
Spanish (Spain): Reyezuleo Listado (ignicapilla/balearica)
Estonian: Lääne-pöialpoiss
Basque: Erregetxo bekainzuria
Finnish: Tulipäähippiäinen
Faroese: Reyðknokkutan títlingskongur, reyðknokkutur títlingskongur
French: Riotelet triple-bandeau, Roitelet à triple bandeau, Roitelet à triple bandeau [Europe], Roitelet triple-bandeau, Roitelet triple-bandeau [ignicapilla ou balearicus]
Irish: Lasairchíor
Gaelic: Crionag
Galician: Estreliña riscada
Hebrew: מלכילון לבן־גבות, מלכילון לבן-גבות (מערבי)
Croatian: Vatroglavi Kraljic, Vatroglavi Kraljić, Zlatoglavi ili vatroglavi kraljić
Hungarian: Tüzesfeju királyka, Tüzesfejû királyka, Tüzesfejű királyka, Tüzesfejű királyka (Európai)
Armenian: Կարմրագլուխ Արքայիկ
Icelandic: Gullkollur
Italian: Fiorrancino
Japanese: mamijirokikuitadaki, mamijirokikuitadaki (ignicapilla/balearica)
Japanese: マミジロキクイタダキ, マミジロキクイタダキ (ignicapilla/balearica), マミヂロキクィタダキ
Georgian: წითელთავა ღაბუაჩიტი
Cornish: Tangryben
Latin: Regulus ignicapilla, Regulus ignicapilla ignicapilla, Regulus ignicapilla ignicapilla/balearica, Regulus ignicapilla ignicapilla/balearicus, Regulus ignicapillus, Regulus ignicapillus ignapillus, Sylvia ignicapilla
Luxembourgish: Feierkäppchen
Lithuanian: Baltabruvis nykštukas
Latvian: Sārtgalvītis, Sārtgalvītis (ignicapilla/balearicus)
Macedonian: Црвеноглаво кралче
Maltese: Bufula tat-Toppu Aħmar
Dutch: Vuur goudhaantje, Vuurgoudhaan, Vuurgoudhaantje, Vuurgoudhaantje (Europese)
Norwegian: Rødtoppfuglekonge, rødtoppfuglekonge (ignicapilla/balearica)
Polish: zniczek, zniczek (ssp. ignicapilla/balearica), zniczek (zwyczajny)
Portuguese: estrelinha real, Estrelinha-de-cabeça-listada, Estrelinha-real
Portuguese (Portugal): Estrelinha-real (ignicapilla/balearica)
Romansh: Retgottel da stad
Romanian: Auşel sprâncenat
Russian: Krasnogolovy Korolyok, Королек красноголовый, Красноголовый королек, Красноголовый королёк, Красноголовый королёк (подвид ignicapilla/balearica)
Slovak: králiček ohnivohlavý, Králik ohnivohlavý
Slovenian: rdeceglavi kraljicek, rdečeglavi kraljiček
Albanian: Kurorë zjarri, Mbretëthi vetullbardhë
Serbian: vatroglavi kraljic, vatroglavi kraljić
Swedish: Brandkronad kungsfågel
Turkish: Sürmeli Çalıkuşu, Sürmeli Çalıkuşu (ignicapilla/balearica), sürmeli çalykuşu
Ukrainian: Золотомушка червоночуба , Золотомушка червоночуба (підвид ignicapilla/balearica), Червоноголовий корольок, Червоночуба золотомушка
Chinese: 火冠戴菊
Chinese (Traditional): 歐洲火冠戴菊, 火冠戴菊