northern royal flycatcher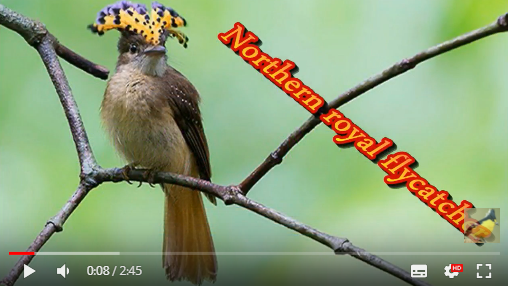 The northern royal flycatcher (Onychorhynchus mexicanus) is a passerine bird in the family Tityridae. It is found in Mexico, south through most of Central America, to north-western Colombia and far western Venezuela. Its natural habitat is subtropical or tropical moist lowland forests.
It feeds on insects and arthropods
The northern royal flycatcher is 16.52 to18 cm  long, brown above small buffy spots on its wing-coverts; the rump and tail are tawny-ochraceous in colour. The bill is long and broad. It has an erectile fan-shaped crest, coloured red in the male and yellow-orange in the female. The display with the crest fully raised is seen extremely rarely, except during banding sessions.
The northern royal flycatcher is usually inconspicuous and quiet, but sometimes gives a repeated sharp clear pree-o or key-up, sounding rather like a Manacus manakin or a jacamar.
Czech: tyranovec veracruzský
Danish: Nordlig Viftetyran
German: Fleckenbrust-Kronenbekarde, Mexiko-Kronentyrann
English: Northern Royal Flycatcher, Northern Royal-Flycatcher, Royal Flycatcher (Northern)
Spanish: Cazamoscas real, mosquero real, Mosquero Real (mexicanus/fraterculus), Mosquero Real Centroamericano, Mosquero real norteño
Spanish (Spain): Mosquero Real (mexicanus/fraterculus)
Spanish (Honduras): Cazamoscas real
Spanish (Mexico): mosquero real, Mosquero Real (mexicanus/fraterculus)
Spanish (Panama): Mosquero Real (mexicanus/fraterculus)
Spanish (Venezuela): Atrapamoscas Real Centroamericano
French: Moucherolle du Mexique, Moucherolle royal (Mexique), Porte-éventail du Mexique, Porte-éventail roi [mexicanus ou fraterculus]
French (AOU): Moucherolle royal [mexicanus ou fraterculus]
Italian: Pigliamosche reale settentrionale
Japanese: ougitairanchou (mexicanus/fraterculus)
Japanese: オウギタイランチョウ (mexicanus/fraterculus)
Latin: Muscivora mexicana, Onychorhynchus coronatus mexicanus, Onychorhynchus coronatus mexicanus/fraterculus, Onychorhynchus mexicanus
Dutch: Amazone-kroontiran (mexicanus/fraterculus), Mexicaanse Kroontiran, Noordelijke Kroontiran
Norwegian: krontyrann (mexicanus/fraterculus), Monarktyrann
Polish: królówka północna, tyranka pólnocna, tyranka północna
Portuguese (Brazil): maria-leque/maria-leque-do-sudeste (mexicanus/fraterculus)
Russian: Северный венценосный мухоед
Slovak: muchárovec kráľovský
Swedish: nordlig krontyrann
Turkish: Kuzeyli Taçlı Sinekkapan
Chinese: 北皇霸鹟
Chinese (Traditional): 北方王霸鶲